IHV Lifetime Achievement Award
Lifetime Achievement Award for Scientific Contributions
Warner C. Greene, MD, PhD
Director, Gladstone Center for HIV Cure Research
Dr. Warner C. Greene is a physician-scientist who has worked in the area of HIV pathogenesis for the past 30+ years. He is currently the Director of the Gladstone Center for HIV Cure Research, the Nick and Sue Hellmann Distinguished Professor, and Professor of Medicine, Microbiology and Immunology at the University of California, San Francisco (UCSF). Dr. Greene is Co-Director with Dr. Paul Volberding of the federally funded UCSF-Gladstone Center for AIDS Research. He is also the founding and emeritus director of the Gladstone Institute of Virology and Immunology, an institute he directed for 28 years.
Dr. Greene received his BA degree with great distinction from Stanford University and his MD and PhD degrees with honors from Washington University School of Medicine. He completed his internship and residency training in Internal Medicine at the Massachusetts General Hospital at Harvard. Next, he served as a senior investigator at the National Cancer Institute from 1979–1986 where he started his own laboratory. In 1987, he became Professor of Medicine at Duke University Medical Center and an Investigator in the Howard Hughes Medical Institute.
Dr. Greene's studies focus on HIV pathogenesis including new insights into how CD4 T cells die during HIV infection and new approaches to curing HIV infection. He has authored than 380 scientific papers. He is a member of the American Academy of Arts & Sciences, and the National Academy of Medicine, a fellow of the American Association for the Advancement of Science, and a past president of the Association of American Physicians. Dr. Greene is most proud of having mentored more than 130 students and fellows during his career.
Dr. Greene's laboratory helped decipher the mechanisms of action of the HIV Nef, Vif, and Vpr gene products. His laboratory also showed that HIV Vif thwarts the antiviral action of APOBEC3G cytidine deaminase by inducing its degradation in the 26S proteasome and by decreasing its synthesis. They also identified endogenous SINE/Alu retroelements as natural targets of human APOBEC3G. In other work, the laboratory has delineated how the NF-kB transcription factor is regulated by stimulus-coupled degradation of IkBa and dynamic nuclear phosphorylation and acetylation of the RelA subunit and how NF-kB antagonizes HIV latency. In his initial phase of his career, Dr. Greene's and colleagues cloned the IL-2 receptor-alpha chain and showed that this receptor was expressed in a deregulated manner in HTLV-I infected cells. This was the first cytokine receptor to be characterized at a molecular level. These studies led to the examination of the Tax and Rex gene products of HTLV-I. Studies of this virus naturally led Dr. Greene's laboratory to the study HIV-1 in the mid 1980's.
In 2007, Dr. Greene expanded his work to include global health activities in sub-Saharan Africa in his role as president and executive chairman of the Accordia Global Health Foundation. Accordia's mission was to overcome the burden of infectious diseases in Africa by building centers of excellence and strengthening medical institutions. It helped create the Infectious Diseases Institute in Kampala, Uganda which is caring for nearly 50,000 HIV-infected people in its extended network of clinics, has trained over 28,000 physicians, nurses, laboratory personnel, and health care professional from 26 countries, published over 650 papers, and launched an active outreach program now impacting 65% of people living in rural Uganda. In 2016, Accordia merged with Africare.
---
Lifetime Achievement Award for Public Service
The Honorable Parris Glendening
Governor Parris N. Glendening is President of Smart Growth America's Leadership Institute and the Governors' Institute on Community Design. In these roles Glendening speaks across the country and around the world about smart growth, sustainability, global climate change, land conservation, transit oriented development, and equity. He regularly speaks to environmental advocacy groups, business leaders and professional organizations.
Parris Glendening served as Governor of Maryland (1995-2003) where he created the nation's first state level smart growth program for which he received Harvard University's Innovations in American Government Award.
Prior to being elected governor, Glendening served three terms as elected County Executive of Prince George's County, MD (pop. 800,000) and ten years as a city and county council member. He was elected president of the Maryland Association of Counties, the Democratic Governors Association, the National Governors Association and the Council of State Governments. For his leadership Governing Magazine twice named Glendening "Outstanding Public Official of the Year," making him the first ever to receive that prestigious award at both the local and state level.
He was a highly regarded professor at the University of Maryland, College Park for 27 years, repeatedly recognized for his innovative, quality teaching and receiving the Regents' Excellence in Teaching Award.
Glendening continues to be involved in the National Academy of Public Administration (NAPA) as an elected Fellow. He has served as Senior Advisor to the President and National Council of the American Society of Public Administration (ASPA). His unique mix of academic, political and non-profit careers has led to numerous public service awards, including ASPA's Donald C. Stone Award and ASPA's Hubert H. Humphrey Award.
Born in New York and raised in Florida, Governor Glendening holds a doctorate degree in Government and Politics from Florida State University as well as eight honorary degrees.
Glendening lives in Annapolis, MD with his wife Jennifer and their fifteen-year-old daughter, Bri, an accomplished equestrian. His son Raymond, a graduate of West Virginia University, was previously the Political Director of the Democratic Governors Association. He is currently the founder and President of Scarlett Oak Strategies in Washington, DC.
---
Lifetime Achievement Award for Public Service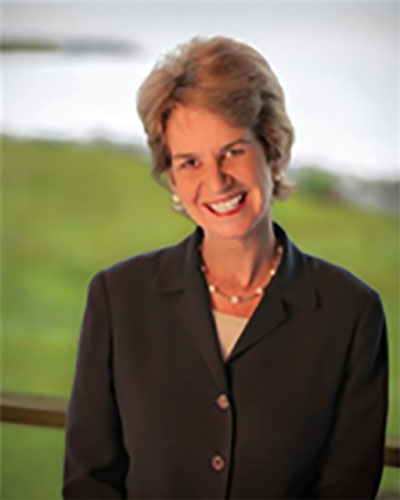 The Honorable Kathleen Kennedy Townsend
Kathleen Kennedy Townsend is Director, Retirement Security at the Economic Policy Institute. She founded the Center for Retirement Security at Georgetown University, where she is a Research Professor.
She has served with distinction in both the private and public arenas. She was Maryland's first woman Lt Governor, and served as Deputy Assistant Attorney General of the United States.
Prior to serving at the Department of Justice, Ms. Townsend led the fight to make Maryland the first—and only—state to make service a high school graduation requirement.
She has been appointed Special Advisor at the Department of State. She is a Woodrow Wilson Fellow, has taught foreign policy at the University of Pennsylvania and the University of Maryland and has been a visiting Fellow at the Kennedy School of Government at Harvard. In the mid-1980s, she founded the Robert F. Kennedy Human Rights Award.
She chaired the Institute of Human Virology founded by Dr. Robert Gallo, which treats over 700,000 patients in Africa as part of the PEPFAR program, has chaired the Robert Kennedy Memorial and has been on the Board of Directors of the John F. Kennedy Library Foundation.
She has served on a number of boards including the Export-Import Bank, Johns Hopkins School of Advanced International Studies (SAIS), the Wilderness Society, the Points of Light Foundation, the National Catholic Reporter, the Institute for Women's Policy Research, the Baltimore Urban League, the Center for American Progress, Lightbridge Corporation, and New Tower Trust. Ms. Townsend is also a member of the Council of Foreign Relations and the Inter-American Dialogue. She is the Vice-Chair of the Future of Science conference held in Venice, Italy.
An honors graduate of Harvard University, Ms. Townsend received her law degree from the University of New Mexico where she was a member of the law review. She has received fourteen honorary degrees. Ms. Townsend's book, Failing America's Faithful: How Today's Churches Mixed God with Politics and Lost Their Way has been published by Warner Books in March 2007.
---
Past Awardees
Select an award to see a list of recipients from previous years.
Lifetime Achievement Award for Scientific Contributions
1999: George Klein, MD, Karolinska Institute, Stockholm, Sweden
2000: Maurice Hilleman, PhD, Merck Research Laboratories, Sumneytown, Pennsylvania, USA
2001: Hilary Koprowski, MD, Thomas Jefferson University, Philadelphia, Pennsylvania, USA
2002: Alexander Rich, MD, Massachusetts Institute of Technology, Cambridge, Massachusetts, USA
2003: Jan Svoboda, PhD, DSc, Institute of Molecular Genetics, Prague, Czech Republic
2004: Paul Zamecnik, MD, Massachusetts General Hospital, Boston, Massachusetts, USA
2005: Manfred Eigen, PhD, Max Planck Institute, Göttingen, Germany
2006: Maxine Singer, PhD, National Institutes of Health, Bethesda, Maryland, USA
2008: Isaac P. Witz, PhD, Tel Aviv University, Tel Aviv, Israel
2010: Rino Rappuoli, PhD, Novartis Vaccines, Sienna, Italy
2011: Max Essex, DVM, PhD, Harvard AIDS Institute, Boston, Massachusetts, USA
2012: Thomas A. Waldmann, MD, National Cancer Institute, Bethesda, Maryland, USA
2013: Vadim I. Agol, MD, PhD, DSc, Russian Academy of Medical Sciences, Moscow, Russia
2014: William Paul, MD, National Institute of Allergy and Infectious Diseases, Bethesda, Maryland, USA
2015: Harald zur Hausen, MD, Nobel Laureate, Gelsenkirchen, Germany
2016: Peter Vogt, PhD, Scripps Research Institute, La Jolla, California, USA
2017: Peter Palese, PhD, Icahn School of Medicine at Mount Sinai, New York, New York, USA
2019: Warner C. Greene, MD, PhD, Gladstone Center for HIV Cure Research
Lifetime Achievement Award for Public Service
2004: Stewart Greenebaum, Greenebaum and Rose Associates, Inc., Baltimore, Maryland, USA
2006: Martin Delaney, Project Inform, San Francisco, California, USA
2008: John D. Evans, Evans Telecommunication Company, Miami, Florida, USA
2008: The Honorable Robert K. Gray, Gray and Company II, Miami, Florida, USA
2010: Harry Huge, Esq., The Harry and Reba Huge Foundation, Charleston, South Carolina, USA
2011: Bernadine Healy, MD, In Memoriam, Former Director National Institutes of Health, Bethesda, MD, USA
2012: Yi Zeng, PhD, China Centers for Disease Control, Beijing, China
2013: José G. Esparza, MD, PhD, Bill & Melinda Gates Foundation, Seattle, Washington, USA
2014: John Martin, PhD, Gilead Sciences, Inc., Foster City, California, USA
2015: Anthony S. Fauci, MD, National Institute of Allergy and Infectious Diseases, Bethesda, Maryland, USA
2016: Ray Schinazi, PhD, Hon DSc, Emory University, Atlanta, Georgia, USA
2017: Quarraisha Abdool Karim, PhD, CAPRISA, Durban, South Africa
2017: Salim S. Abdool Karim, MBChB, PhD, DSc, CAPRISA, Durban, South Africa
2019: The Honorable Parris N. Glendening, Smart Growth America's Leadership Institute, Governors' Institute on Community Design
2019: The Honorable Kathleen Kennedy Townsend, Economic Policy Institute
One-Time Lifetime Achievement Award for Excellence in Teaching
2010: Michele LaPlaca, MD, Institute of Microbiology of the University of Bologna, Bologna, Italy
Lifetime Achievement Award for Excellence in Medical Education, Clinical Care and Clinical Research
2012: John G. Bartlett, MD, Johns Hopkins Bloomberg School of Public Health, Baltimore, Maryland, USA
2018: Henry Masur, MD, Chief of Critical Care Medicine Department, NIH Clinical Center, Bethesda, Maryland, USA
Lifetime Achievement Award for Excellence in Clinical Research
2018: Kiyoshi Takatsuki, MD, PhD, Professor Emeritus, Kumamoto University, Kumamoto, Japan